Brighten Up Your Office With Colourful Office Furniture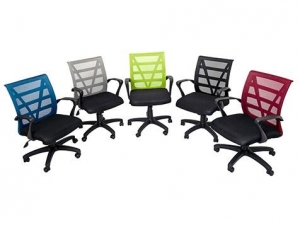 Take your office from drab to fab with the simple addition of colourful office furniture to your workspace.
Whether it's via your desk, bookcase, office screens or a feature chair, injecting colour into your office is an easy way to give your workspace a boost and make you happy about coming to work.
There's no excuse for dull décor and boring office furniture these days, with colourful office furniture on offer to brighten up your office.
Desks and storage units
Every office needs a desk, but no one said it had to be 50 shades of boring. A splash of colour on your desktop can transform it into a focal point. Take this a step further, complementing it with coloured wall units and cupboards, or coloured steel filing cabinets.
Think outside of the box. If bright colours are not your style, why not try white and light timbers? These can be just as effective as colourful furniture in creating a clean and inspiring workspace.
Chair fabrics
Spice up the boardroom with brightly coloured executive chairs. Don't settle on just one colour, take one of each and bring your boardroom to life.
When it comes to standard office chairs, colours range from green, to navy and wine.
A bright red visitor chair will act as a statement piece in your waiting room, while a sleek white couch can be just as effective as colour in promoting style, elegance and professionalism.
Screen fabrics
It's easy to feel closed in when your open plan office is divided up with screens. Whether you choose pink, green or orange, you can make your office fun and vibrant with coloured screen fabrics.
Colour theory in the office
It's no surprise that dull offices can make you drag your feet to work. Injecting colour into an office can affect you and your staff's moods and influence productivity and creativity.
Before you choose a colour to liven up your office, consider what sort of business you have and the environment you wish to create.
If you have a young office and want to promote a lively atmosphere, then orange or yellow would be a smart choice. If you want to promote a calming environment, then you should lean toward blues and greens.
When it comes to colourful office furniture, green is proven to stimulate creativity, as is the optimistic and happy yellow. Red is a great way to draw people's attention to something, while white can create a clinical or sleek and stylish space. A touch of light wood can promote a relaxed, modern feel to your office environment.
Brightening up your office is easy with the use of colour. Contact Clicks Office today to discuss how colourful office furniture can transform your workspace.